Shopping Cart
Your Cart is Empty
There was an error with PayPal
Click here to try again
Thank you for your business!
You should be receiving an order confirmation from Paypal shortly.
Exit Shopping Cart
RECLAIMING THE PATIENT'S VOICE
STRIPEYSOCKS BLOG (not part of the book!)
| | |
| --- | --- |
| Posted on March 16, 2015 at 7:35 PM | |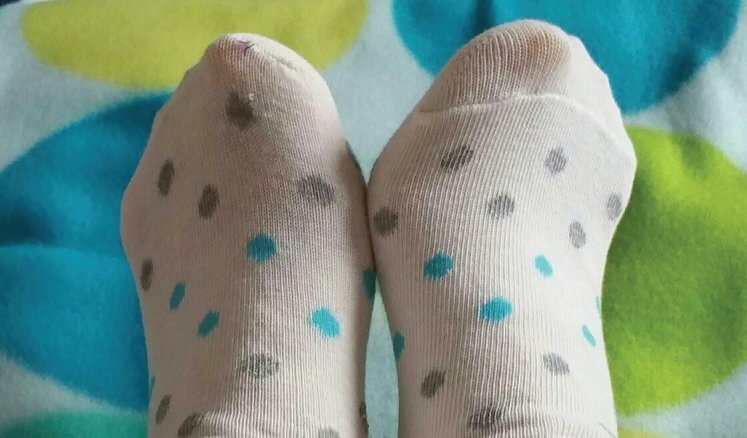 WHAT DO WE KNOW ABOUT SEVERE ME?
Since my last blogpost on the stages of ME, some of you have raised questions about cases that sadly don't ever seem to go into remission, or improve enough for people to enjoy a reasonable quality of life. That's what I am addressing here, grounded both in my own experience and in the knowledge of others. It is part of the spectrum of this disease, and we need to see the whole picture.
I first met microbiologist and ME specialist Dr Elizabeth Dowsett in 1985 when she diagnosed me with ME. Shortly afterwards, she telephoned with the news that my blood tests had revealed a recent infection and several weeks after that, other tests, being analysed as part of a research procedure, showed that the causal agent was the enterovirus (or gut virus) Coxsackie B. In ME, it often is, as she explained. Coxsackie viruses are related to polioviruses, being part of the same family.
What I didn't know at the time – do any of us? - was that mine would develop into almost the worst case of ME that Dr Dowsett had ever seen. I won't attempt to describe that here, although I do intend to publish a personal memoir to convey something of the dramatic severity and trauma associated with that level of disease.
When, years later, I came to interview Dr Dowsett, after a painful endurance test while my body struggled to repair itself, she made clear to me that whilst the body will do its best for us, sometimes it just can't get the job done.
If she was right about the persistence of virus in our tissues (and I have no reason to think she wasn't, given Dr John Chia's discoveries of viral particles persisting many years later in the stomach lining of patients) then we never truly 'recover' in the pure terms of totally eliminating the invading organism. But that happens with other organisms too, such as the herpes virus that causes some people to get recurrent cold sores when they are run down. Most of the time it doesn't bother them. This is a way that the body has learned to accommodate invaders rather than always mounting a deadly battle.
Some people who have been through ME seem to reach periods in their lives when they joyfully find themselves capable of physical things they thought they wouldn't be able to do again. After the worst years, some of us find other, gentler, physical things to replace those we can no longer manage. Can we call any of this 'recovery'? It's an odd word, as people use it in their own way, and even researchers have to define what they mean by recovery, which might not be what we would mean.
I have limitations that have never totally gone, and I live my life around certain restrictions. The R word is bandied around too loosely, but if by 'recover' we mean that we are totally 'over it' forever, then that idea does not seem to be reflected in what happens inside the body. What can happen is an accommodation with the virus that caused the ME in the first place, a sort of equilibrium. This balance, however, can be upset, and indeed, is apparently not reached in every case.
If you haven't read my previous blog post IT'S THE IMMUNE SYSTEM, RIGHT? I would prefer that you read it now, before continuing with this one. It's not all that long. Just scroll down and look through it. Because the next few paragraphs are a bit scary, and if you're feeling upset, miserable or frightened because of what's happening to your body, it's a good idea to reassure yourself by learning how the 'tendency' in ME (as explained to me by Dr Dowsett) is for the body to improve over time as it tries to do what it's programmed to do – heal us. Often this happens in spite of, rather than because of, any therapies or medications or alternative treatments that others recommend.
The body has been injured, damaged. We must look after it, love it, praise it and trust it to do its very best. We must take good care of ourselves and not let people pressurize us into doing things that will interfere with that healing process.
The last thing we want is to provoke a deterioration, even as we naturally try new things when they seem possible. Keeping a balance is important. As I've personally experienced, once a serious setback has happened, it can be a long haul to get back to our previous level of improvement. And we don't even know if we'll get there; uncertainty is perhaps the worst thing of all. What will my future be? We must give it our best shot.
Go off now and read my previous blogpost...
Welcome back. I hope you found that information encouraging. We must, however, validate the experience of those who do not 'recover', for no fault of their own. And we must not hide away the unpalatable truth, that some people suffer continually in darkened rooms unseen by the world. As the Chief Medical Officer's Working Group Report stated in 2002: Overall, there is wide variation in the duration of the illness, with some people recovering [that word again] in less than two years, while others remain ill after several decades. A minority of those with CFS/ME remain permanently severely disabled and dependent on others.
That is a sobering statement. Dr Melvin Ramsay wrote of the spectrum of cases, including one case that had at the time of writing lasted 40 years. He stated: I am fully satisfied that at a conservative estimate 25% of victims of ME have had the disease for 10 years or more. Only Myalgic Encephalomyelitis has such a legacy.
Ramsay was comparing the real, classic, historic ME with other forms of postviral syndrome. Dr Chia's 21 century work corroborates what Ramsay documented, showing double stranded enteroviral RNA present in the stomach lining of patients after 10 years. He is quite adamant that this is a causal relationship, with the level of symptoms reflecting the degree of what I would call infestation.
Ramsay describes two forms of chronic ME. One form shows a recurring cycle of remission and relapse, with remissions lasting as long as three years in his experience. The second form is more tragic in that no remission occurs. He talks of the restricted lifestyle of these patients, and adds: A few of these chronic cases are compelled to sleep upright as a result of permanent weakness of the intercostal and abdominal recti musculature.
I myself find it more comfortable not to lie totally flat when sleeping, and this is a fascinating analysis of why that might be. Despite the persisting weakness in some of my muscles, I am constantly amazed at what my body has managed to achieve. But I try not to take it for granted.
What have others had to say? In a paper published in 1994 by the Nightingale Foundation in Canada, Byron Hyde MD and his colleagues reported that out of 1826 respondents to their survey, the average length of illness was approximately seven years. They found only a two per cent recovery, which, they said, 'suggests that the large number of pharmaceuticals, alternative medicines and various treatments used' had been 'largely ineffective'. We are now 21 years on from that statement, and if anything, we are in a worse situation, with exercise regimes and psychological therapy having provided one huge distraction. We see muddled terminology, mixing of patient groups under the banner of 'CFS', and often misguided treatment. I particularly see this in regular reports from parents stating that their children have been made worse.
In my view, until both the research establishment and Government truly accept the viral nature of this illness, and do something about developing targeted antivirals, and vaccinations, as they have done in other serious disease, it will continue to be down to us as individuals and families to resist over-demand and to insist on taking the very best care of ourselves in order to maximise our chances of 'recovery'.
In my book, I am revisiting my interview with Dr Dowsett and her work. She goes into some detail about the dangers of ignoring the true nature of ME, and what that can lead to.Which is not nice. Not nice at all.
ME has to be taken seriously. That's why I continue to shout about it. To anyone who will listen.
Jane Colby
STRIPEYSOCKS BLOG
www.methenewplague.net
Categories: None
/